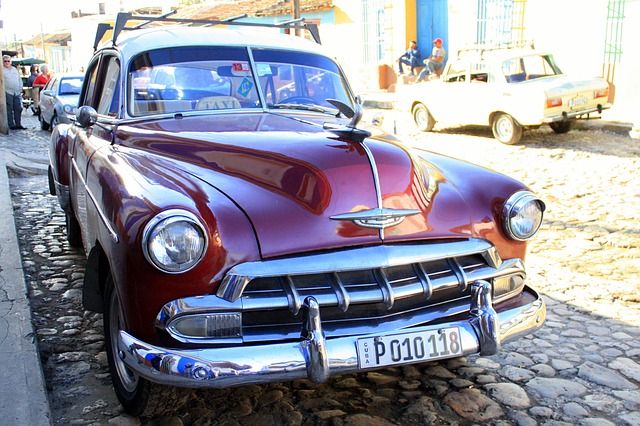 It's not very often that GoMotorTrade writes about international politics, however a recent event has caused a huge stir in the motor trade industry. In a surprising announcement the other week both Cuba and America announced that going forward they would have "normative relations". Put simply, this means that after decades of sanctions Cuba can now trade with the rest of the world, which has caused a considerable amount of commotion in the motor trade world.
Due to the fact that Cuba has not been able to trade with other countries such as the US and the UK for the best part of sixty years, vehicles in the country generally date back to the 1950s. Cuba is therefore a Mecca for classic cars including Chevrolets, Fords, Studebakers and Chryslers and therefore will likely soon see collectors flocking there to purchase rare and vintage cars.
However, there are those that are concerned that buyers from the US and other countries may be disappointed with the true state of affairs when it comes to Cuban-based vehicles. Even though many of these cars are considered classics, a trade embargo put in place by Fidel Castro in 1959 means that no cars have been imported to the island without the government's permission for decades. This has led to the 60,000 vintage cars on the island slowly but surely falling into disrepair due to lack of available parts.
Furthermore, even though the US is now able to purchase vehicles from Cuba some believe that it is very unlikely that Cuban owners will happily part with their classics anytime soon. Michelle Krebs, senior analyst for Autotrader.com, said: "There's a lot of pent-up demand, but there's no money. One of the things we might see first is more business in parts. People have been holding those cars together with shoestrings for years. They've been really resourceful."
Meanwhile, Brenda Priddy, an automotive photographer from Arizona who has spent years documenting classic cars in Cuba, said: "People seem to think that the automotive auction houses will go down to Cuba and scoop up all these old cars. Most of the cars there are not the ones anyone would want to bring back to the US. You'll see a car without a hood ornament, but you may see another with four different ones, all attached in a row. Sometimes you'll see cars covered with 10 layers of house paint."
It is for this reason that many experts in the car trading world believe that the excitement around Cuban cars may fade away over the next few months. Keith Martin, founder and publisher of Sports Car Market magazine, said: "I can see the first couple of cars that are shiny and have some sort of interesting drive-train – Russian tractor diesel, for instance – bringing $50,000 or so at a Barrett-Jackson auction, if they are the first Cuban cars to sell publicly in the US. But once the frenzy dies down, these will just be junky old cars whose existence is a testimony to the ingenuity of Cuban mechanics."
Meanwhile, Lenny Shiller, president of the Antique Automobile Association of Brooklyn, said: "There might be a little cachet to having a car that had been in Cuba, kind of like how some people paid a lot of money to have one of those cars in Nebraska with three miles on the odometer. I just don't think there's going to be a lot of interest among American collectors. You can get anything right here."
So what does this all mean for those that work in the motor trade industry both in the US and across the globe? Firstly, if you are a classic car enthusiast you will need to carry out a considerable amount of research before even contemplating investing in a classic vehicle from Cuba. Secondly, parts for such vehicles may soon be in high demand which means manufacturers including Ford and Chrysler could see an influx in business from Cuba.
Finally, the fact that Cuba can now trade with more countries across the world means that in the future there may be a new market for motor traders to work in. However, the Cuban economy is still in a fragile state, meaning that it will likely take years or even decades for the country to start purchasing vehicles at the same level as the rest of the world.
Photo by Pixabay