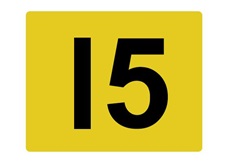 It is becoming increasingly popular to splash your cash on personalised number plates these days. Previously, we wrote about the growing importance of trade plates for motor traders but they aren't always as fun as buying your own personalised plates!
Recently, a buyer spent £518,000 on a number plate saying '25 0' which is the highest amount ever spent on a plate. Craig Bellamy, a Welsh footballer, owned a registration plate spelling out his name which was bought by Richard Bellamy for a mere £19,520 compared to the '25 0' plate. The price of Bellamy's number plate was a shock to some, however the '25 0' plate is popular due to the relationship with the Ferrari 250 GTO which is also the world's most expensive car costing £23million.
The man who bought the '25 0' number plate is John Collins who owns Talacrest which is a Berkshire based world leader in the classic Ferrari industry. Alongside this number plate he also successfully bought the '250 L' plate for £130,320 spending £648,320 altogether.
John Collins said: "I was just determined to own them, it was just a case of how much I was going to have to pay for the privilege." He was also asked how much money he was willing to spend on the '25 0' plate and he replied with: "I'm not too sure, it could possibly have been the first £1m personalised registration! Every time I put a bid in, the under-bidder responded straight away. It is a lot of money, but I was calm as I have been in auction situations before where I have bid more than $20m (£12.7m) on a car.
"When the hammer went down I was really happy, it is a record for a DVLA registration plate. I am going to be putting it on a very special Ferrari 250 SWB which used to belong to Eric Clapton."
He added: "I also bought '250L' which is going on a £2.25m Ferrari 250 Lusso and '500 FER' which was a bargain at £3,000. It is the ultimate plate for the ultimate car. I could have bought a really good Ferrari for the money, but I decided I really wanted the plate and I wasn't going to stop bidding on it."
Jody Davies from the DVLA said: "What a spectacular way to mark our 150th auction during our 25th anniversary year. While we had high hopes for both registrations, we never dreamt they would be so successful auction during our 25th and enable us to make history for the DVLA."
Not long after the popular demand for the '25 0' number plate there was a huge request for the new 15-plate registration plates. The high demand caused the DVLA website to crash just after the '15' series personal plates went live at around 8.30am on the 4th of December.
The reported problems included pages failures to load and slow loading which became very frustrating for the desperate users. Reports showed that buyers could see the plate they were waiting for but couldn't complete the purchase transaction. These problems meant that some users were left with nothing after being ready to buy their ideal registration plate.
The DVLA turned to Twitter to offer feedback on the issues and updates read: "We're experiencing high demand for our 15 series launch, pls [sic] keep trying if you're having issues accessing the site" The organisation also admitted that "high demand is causing slow loading time."
Motor traders should take into consideration the growing interest in number plates as if customers are more interested in spending money on plates they may be less willing to put the money towards their cars in the future.